Imagine a place where
you feel the rhythm, sound and

essence of nature
in every step.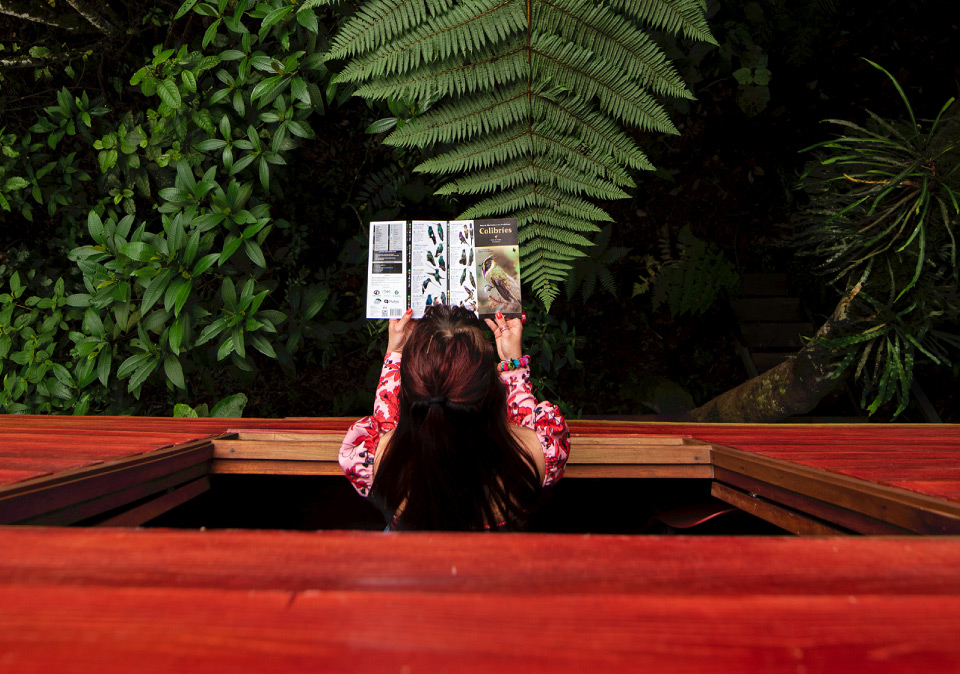 Enjoy the tranquility in the middle of nature.
Intégrate a la corteza viviente de los árboles, percibiendo los hermosos sonidos del bosque y el cauce del agua, disfrutando de aromas y vibrantes colores a 11 metros de altura. Te invitamos a vivir felíz como la Piranga Roja en unión con la naturaleza.
Acomodación hasta de 4 personas en parejas
Live nature in complete connection.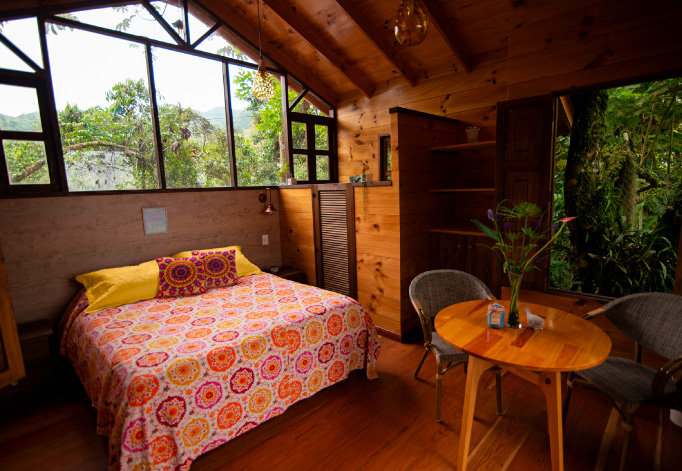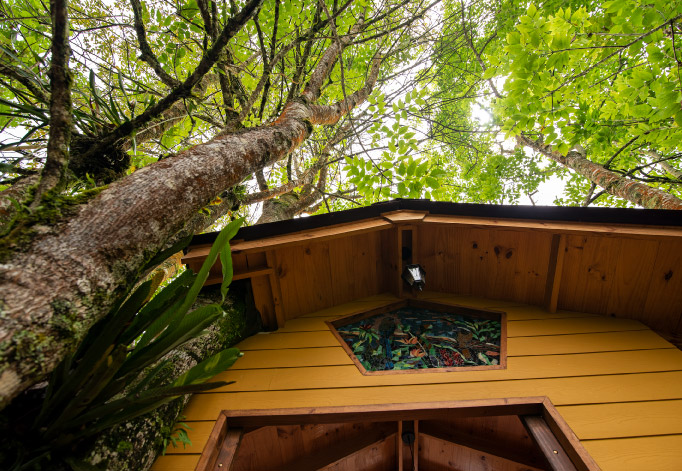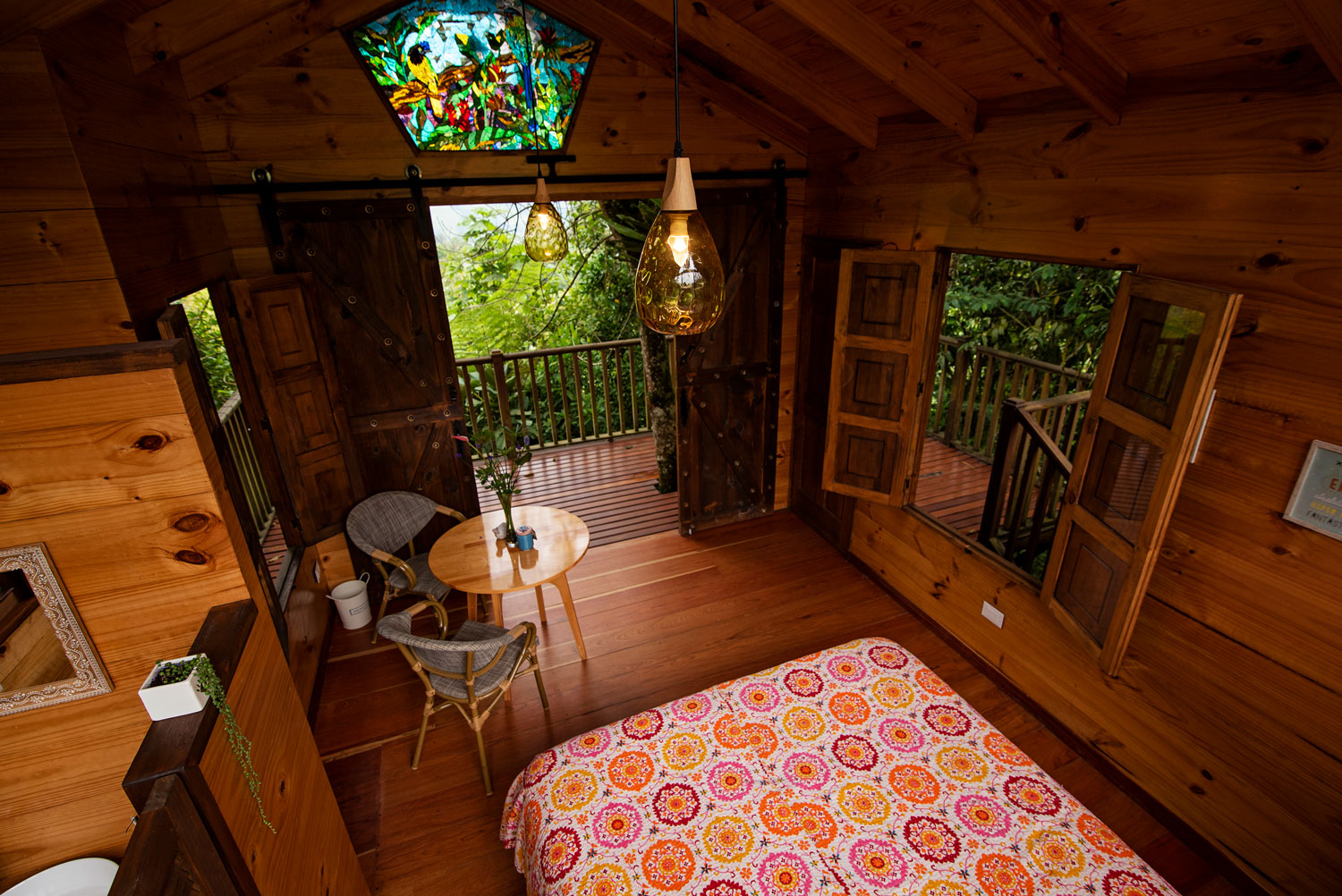 Abrazada por tres Urapanes y resguardada armónicamente por un Yarumo, siente la calidez de mi casa en la altura. En este denso bosque guarda la calma para el descanso y el encuentro social entre la familia y los amigos. Soy Tangara Dorada y planeo compartir contigo mi hábitat.
Our Guests Say
Verificada
Casas en los arboles y divinas especies en su hábitat natural Un lugar con calidez humana inigualable, allí cada detalle fue creado para brindarnos una estadia divina. Estar en casas en los arboles, apreciar la vista desde allí, con sus especies, el sonidos del agua, ver tantas aves, fue fantástico! estar allí inmersos en ese ambiente, recorrer sus senderos, estar en sus nacimientos de agua, bajo tantos arboles que ellos han sembrado y cultivado con tanto amor, es reparador! y la comida es deliciosa! gracias Tominejo!
Verificada
Descanso perfecto en medio de la naturaleza. Perfect rest in the middle of nature. Tominejo Ecolodge es un mágico lugar cerca de Neira, Caldas. Es un espacio acogedor, confortable, con calidez humana y respeto de sus dueños por la naturaleza, la fauna y el ecosistema. Puedes descansar, meditar, practicar yoga, hacer senderismo, avistamiento de aves, entre otra actividades. He ido varias veces con mi pareja y el contacto con la naturaleza es impresionante.Tominejo Ecolodge is a magical place near Neira, Caldas. It is a cozy, comfortable space, with human warmth and respect from its owners for nature, fauna and the ecosystem. You can rest, meditate, practice yoga, go hiking, bird watching, among other activities. I have been several times with my couple and the contact with nature is impressive.
Verificada
Experiencia inolvidable, lugar increible. Fuimos bienvenidos por los dueños del hotel, una familia muy cálida y hospitalaria. El sitio es espectacular, en medio de las montañas con facil acceso, la vista es increible. Si te sorprende el paisaje, vas a tener una mayor sorpresa conociendo las cabañas en medio de los arboles. Tienen un diseño que te hace querer permanecer en medio de la naturaleza. Si te gusta el cuidado por la naturaleza, la sostenibilidad, el avistamiento de aves y la aventura ya que tienes un recorrido por el bosque, debes ir a conocer Tominejo.
Verificada
Sentir la naturaleza Excelente sitio para descansar , admirar y estar en contacto con la naturaleza, muy acogedor para compartir con la familia y amigos ,es un lugar muy lindo hecho con amor y dedicacion que podemos ver en todos los detalles de las casas ,y lo mejor ...la atención de sus propietarios, gracias por su atenciòn, lo recomiendo 100%
Verificada
Espectacular Lugar maravilloso, mágico, hermoso,totalmente recomendado,tranquilidad, aire puro, naturaleza, aves,hermosos paisajes,senderos,atención inigualable,sus casas preciosas con detalles que enamoran inmersas en ese bello mundo natural.
Verificada
Excelente atención Hermoso El Lugar y la atencion, se ven paisajes muy bonitos y Mucha naturaleza, lo mejor son los anfitriones con su atencion. Las canañas son muy lindas e impecables, recomendado para descansar y disfrutar la naturaleza.
Verificada
Un Lugar Mágico Es un Paraíso, un lugar único y mágico donde los sentidos se conectan con la naturaleza. La Calidez de sus dueños lo hace único. Un lugar ¡Maravilloso! En donde cada detalle es el reflejo del amor que se siente al estar ahí. Recomendado un 100%.
Verificada
"Las casas en los árboles son únicas" Es un sitio maravilloso, de real contacto con la naturaleza, una experiencia única. La atención inmejorable a cargo de sus propietarios y la familia. El Sendero es muy bello a través de un bosque muy poblado y al borde de una quebrada limpia, se observan muchos pájaros. Tiene una vista hermosa hacia Manizales y el Parque de los Nevados...